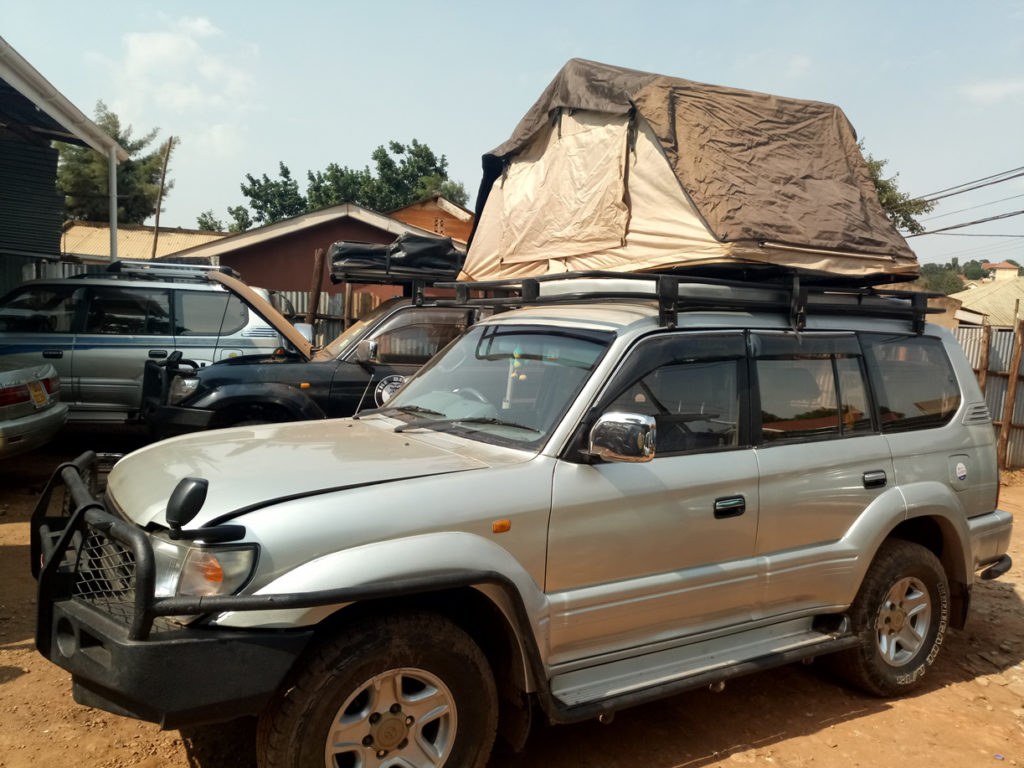 Travel anywhere in Uganda in a car equipped with a roof tent, you can create a place to sleep in no time. This sturdy roof tent is lightweight and hardly takes up any space. Rooftop tents are ideal for traveling and of course very cheap. Therefore, 4X4 Car Hire Uganda will make your holiday fantastic through providing you a car with roof tents, which are very suitable for a holiday in the country.
A car with rooftop tent is durable, with an inflatable frame and super-fast to setup. The roof tents are robust, affordable and made of high-quality materials. The tents are made of high-quality fabric and are fitted with the most durable zips. The unique folding and inflation systems allow quick and easy setup. Camp wherever you park in Uganda.
Watch the sunset or sunrise from inside the roof tent — views in all directions. The windows are also useful to allow fresh air in or for airing the tent. If you get chilly or you want more privacy in your roof tent, you can always close the ventilation windows. Sleep comfortably surrounded by nature, what an excellent camping and sleeping!
Easily jump into bed after a long drive and spend the night wherever you park your car. The roof tent is perfect when traveling to different locations. After a good night's rest, you can continue your travels without spending ages packing and clearing up your pitch.
A roof tent is really ideal for sleeping on any terrain. No more tripping over guy ropes or tent pegs, and you always sleep on a flat surface; no more rocks or hard surfaces ruining your good night's sleep on your camping safari. Rooftop tent camping is safe and high up, so no vermin bothering you.
Moreover, you never need worry about a wet or swampy surface or mud on the tent. And when you are ready to go, you deflate the roof tent with the central screw cap, and fold it up and on to your next adventure! Camping is about getting away from it all….so take it to the extreme. Here are some of the best wild spots in Uganda to go for a camping trip.
The western region of Uganda is a very touristic place in the country and here you are guaranteed with a memorable mountain gorilla expedition (double gorilla trekking if you wish), lifetime chimpanzee tracking experience, excellent wildlife viewing, fantastic birding safaris, and a thrilling mountaineering (hiking the Rwenzori Mountains).
In the northwestern part of the country is the remarkable Murchison Falls National Park which resides the world's greatest waterfall, and in the northeastern part of the country is Uganda's most prominent national park – the epic and picturesque Kidepo Valley National Park.