The Uganda Martyrs are a group of 23 Anglican and 22 Catholic converts to Christianity in the historical kingdom of Buganda, now part of Uganda, who were executed between 31 January 1885 and 27 January 1887. They were killed on orders of Mwanga II, the Kabaka of Buganda. About a half hours' drive from Uganda's capital (Kampala) city center, Namugongo is a township located in the country's central parts. Namugongo is globally known as the place where over 35 Ugandan martyrs (young men) were assassinated from due to a great love and faith they had over Christianity.
As a reminder, Namugongo is the largest Christian pilgrimage destination in the whole of the African continent. At the shrines, you will be told touching stories about the martyrs; the cause of their death and how each of them was killed, and the place and date of assassination, all which will definitely bring agony to your heart especially when you are a believer of God.
Every year on 3rd of June, various Christians and Non-Christians make their way to Namugongo to commemorate the faith of the Uganda Martyrs. During this period, you will get to buy holy rosaries, bibles, martyrs history book showing all the Uganda Martyrs and what caused to their deaths respectively.
At the Catholic and Anglican shrines, there is a Holy Lake and a Well, respectively, full of holy water used as a blessing in various ways, hence many pilgrims carry their jerricans and bottles whenever they are going to Namugongo such that they fetch the holy water to go back home with it.
The Uganda Martyrs
The Uganda Martyrs who are said to have been killed from this place (Namugongo) are said to be; 23 Anglicans and 22 Catholics, making up a total of 35 Uganda Martyrs. In reference to the Anglicans and Catholics, there are two major martyrs' shrines in Namugongo for both the Anglican martyrs and Catholic martyrs. Though most cites say that they were 35 Martyrs, some others reveal that they were 45 Martyrs but the most popular names among the martyrs include; St Kizito (the youngest of all martyrs – aged 14 years), St Charles Lwanga (the leader), St Balikuddembe, Ponsiano Ngondwe, Denis Ssebuggwawo, Antanansio Bazzekuketta, Nowa Mawaggali, Anderea Kaggwa, Yakobo Buuzabalyawo, Matiya Mulumba, Gyavira, Anatoli Kiriggwajjo, Achileo Kiwanuka, Bruno Sserunkuuma, Gyaviira Musoke, Baanabakintu Luka, and many others. The remains of these Martyrs, such as skeletons and bones, are found in both places – Anglican and Catholic Churches (Shrines) in Namugongo, and can be seen during your tours to the shrines.
Killing of the Uganda Martyrs
The Uganda Martyrs were killed during the years of 1885-87 in different ways however most of them were burned to death. The other means of killings included; castration, being speared, beheaded, ravaged by wild dogs (Nowa Mawaggali), and some were dismembered. The Uganda Martyrs were killed on orders of the by then King (Kabaka) of Buganda, the most popular Kingdom in Uganda.
The Buganda Kingdom is found in the central parts of Uganda and during the days of killing the Uganda Martyrs, the Kingdom's King was called Kabaka Mwanga II who was the very one behind the assassination of all these young souls due to the much love for Christianity that they portrayed. It is said that King/Kabaka Mwanga II requested the deceased Uganda Martyrs to abandon Christianity to save their lives a thing which they totally refused and in turn, the King ordered for their massacre.
Mukajanga was Buganda kingdom's chief executioner and played a pivotal role in the demise of the young Christians at Namugongo. Visiting the Anglican shrine museum at Namugongo, you will see the statue of Mukajanga while expressing his brutality over the Martyrs.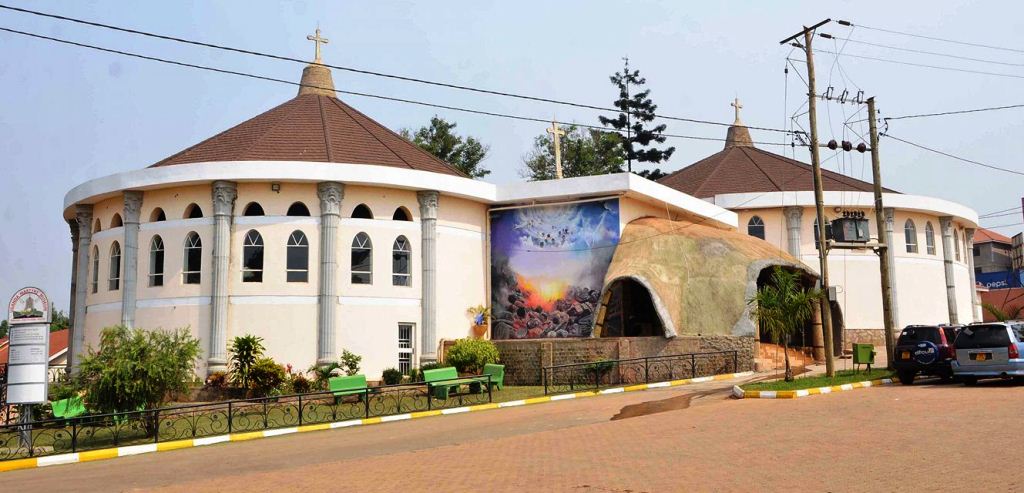 Anglican Cathedral Shrine at Nakiyanja – Namugongo
Who is eligible to visit the Namugongo Shrines?
The Namugongo shrines are often visited annually by different pilgrims all over the world regardless of their culture, religion, and continent and country. Therefore, the shrines' doors are open for every person who exists on earth.
As a sign of commemorating the Uganda Martyrs and also expressing their faith to God too, many pilgrims from Uganda and all over Africa decide to move miles and miles from their motherlands to throng Namugongo town, in central Uganda. Namugongo annually receives thousands and millions of pilgrims who go there to commemorate the Uganda Martyrs.
On record, Namugongo got the highest number of pilgrims (over 2 million individuals) in 2015 when Pope Francis visited the shrines too. Many other big public figures from all over the world and in Uganda often visits the Namugongo shrines by that time, such as; Presidents, Members of Parliament, Ministers, Top Musicians, among others.
When to visit the Namugongo shrines
                                                                               Namugongo Shrine
Every 3rd of June in each and every year is the official date to give a commemoration to the deceased young souls who died for their faith over the almighty God, and as a must, every 3rd of June is a public holiday in Uganda as the whole country joins hand in hand to remember the Uganda martyrs.
The pilgrimage to Namugongo always begin in May, where pilgrims from far countries such as; South Africa, Nigeria, Ghana, Egypt, DR Congo, Kenya and others, start their journey to Africa's largest Christian pilgrimage destination – Namugongo.
Other pilgrims, especially those living within a close proximity to Namugongo, start moving on 1st of June, and on 3rd is the official date for the commemoration occasion because it is believed that most of the martyrs were assassinated on this date. Several issues occur at the shrines on that day (3rd June) such as; repentance, tour excursions, fetching the holy water, cleanliness, prayers, and entertainment as well.
As a gesture of purity and bounding more with the almighty God, all pilgrims get a chance to disclose their sins before the martyr's day celebrations a reason which make pilgrims to stay at the holy ground for a couple of days not only on the martyr's celebration day. To all the confessors, there are religious leaders and ushers who will guide you during your confession period.
Therefore, besides commemorating the Uganda martyrs, pilgrims also get salvation and redemption faster since the Namugongo holy shrines are more exceptional (heaven grounds) and it's believed that God hears and forgives faster. However, because Namugongo is officially visited on 3rd of June, this does not restrict you from visiting it on any other dates during your Kampala city tours. You can also decide to visit the Munyonyo shrines, in Kampala, where the other few Martyrs' remains are kept.